Membership
It is the mission of East Montrose Civic Association to serve the interests of East Montrose, to promote the safety and welfare of its residents, to foster a sense of community, and to celebrate the diversity and uniqueness of the area. These goals are accomplished through the efforts of its volunteers and elected officers.
Welcome to the East Montrose Civic Association! Payment of dues to the civic association is not required. However, your participation allows us to continue our work to better the neighborhood of East Montrose.
Member Meetings focused on community topics
Quarterly printed newsletter packed with relevant information on EMCA
Online presence
Member Socials to meet your neighbors
Neighborhood Nite Out
White Elephant Holiday Party
Biennial East Montrose Home Tour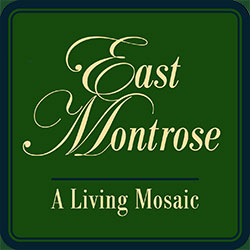 Show your support for East Montrose with an "A Living Mosaic" sign. These sturdy signs are $75 each. Please contact Treasurer.emca@gmail.com to make your purchase.
Why not Support the Peggy Shiffick Park and get a t-shirt?
Contact: peggyshiffickpark@gmail.com