The East Montrose Civic Association hosted its 13th Biennial Home Tour and Art Walk on Saturday, October 8, from 10 a.m. until 4 p.m. East Montrose, referred to as "the Heart of Houston," was platted in the early 1900's – back in the days when Houston's population numbered fewer than 300,000 and the GH&SA Railway ran down Montrose Blvd.  During the 1960s, East Montrose became a center for the counterculture and hippie communes, and in 1970, the home of Anderson Fair, one of the oldest music venues in continuous operation in the United States. Today a diverse mix of people and architecture, this pedestrian-friendly area exhibits a variety of architectural styles. These houses have original build dates ranging from the early 1900s to 2014. Tour goers can get a glimpse of how the architecture has been transformed over the years, with results of unique renovations that are characteristic of this distinctive, eclectic neighborhood.
The Home Tour: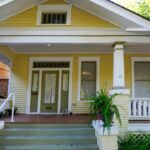 • 908 Welch: Start the tour at this turn-of-the century, four-square house has been renovated with a modern flair by the current owner. A wide front porch, typical of the era, extends the full front width of the clapboard exterior. This gorgeous home retains its turn-of-the-century grandeur and the walls seem to whisper tales of carriages pulling up for evening rides.
• 2020 Crocker: former home to Nell Stewart, who spent her first hundred years growing up in the home before recently selling to a young couple who are restoring it to its former glory. This is very much a work-in-progress, appealing to anyone who wants to see what goes into renovating an old home! Stewart was the local historian for years and regaled neighbors with stories as the neighborhood transitioned from the early 1900s, to the counterculture 70s, to present day. One tale regarding the First Pagan Church of Houston down the street "The children who lived there told fellow students they would turn them into black cats for lunch money".
• 2102 Stanford: Built in 2014 by a longtime resident of the neighborhood, this townhome was custom-designed to maximize views of the downtown Houston skyline while preserving a native pecan tree on the tight site. The resulting interiors are tall, airy and somewhat quirky spaces with spectacular daylight. Exterior is stucco and hardy board, interiors include 'gneiss' countertops, custom cabinetry, Viking appliances, and hardwood floors throughout. Unique floorplan includes a separate entry library/office/guestroom, expansive bonus room, and a fifth-floor deck with 300-degree views of the city.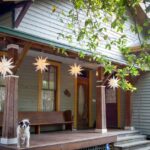 • 301 Welch: Comprised of two shotgun shacks, built in 1915 and 1925, that were bolted together. Friends of the family bought the house for $400 sometime around the 1930s. The house had an escape hatch in the floor of a linen cabinet – possibly for bootleggers. The cabinet was discovered in 1991, when the house was moved to its current, location here in East Montrose from Jackson Street (next to St, Joseph's Hospital). In 2005, a three–story addition was added, which includes an apartment (designed to make the most of a small space) and an artist's studio.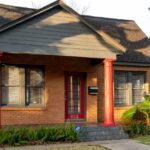 • 802 Peden: Craftsman bungalow built in 1919 for a family of five. The place was a mess when the current owner purchased the home in 1997. A great deal of effort was made to update the look, yet restoring many original items and retaining its original brick walls, woodwork, flooring (oak in Living and pine in Bedrooms) and wavy glass windows–the foundation is an unusual combination of pier and beam with a chain wall perimeter. You will be surprised to find only one bathroom–and lots of red everywhere–different from the floral wallpaper of yesteryear!
Also visit the working studios of nine local artists, all within comfortable strolling distance. You'll be invited in to the space where artists get their inspiration, and you'll see where and how their crafts come to life.
Joan Son & Keiko Kinsey – paper art, origami & fine art beading – 904 Welch
Cindy Shung – artist in residence at Anderson Fair – 2007 Grant St
Constance Braden – charcoal drawings, portraits on paper – 920 Damon Ct.
Photographer Valerie Owhadi hosted by Luc & Vero — 315 Willard
Penny Cerling – print making, pen & ink on paper & wood – 419 Willard
Gerida Brown at Historic Welch Corner – paintings & sculpture – 915 Welch
Mike McHam – fused glass – 713 Bomar
JoAnn Gage – Front Porch Selfies with mural – 2006 Stanford
Bryan Haworth – watercolor – 2107 Morgan
Josena Arquitea – paintings of East Montrose bungalows – 612 Peden
Plan to spend the day, browse neighborhood shops, and stay for lunch or dinner at many local restaurants. Also, Anderson Fair, 2007 Grant at Welch, will be open with the opportunity to see inside this iconic music venue.
East Montrose is in the 77006 Zip Code and lies within the boundaries of Montrose, West Gray, Genesee, and Fairview. Drive or bicycle over, and look for the Home Tour signs.
Advance tickets no longer available.  Day-of-Tour tickets are $20 and are available at 908 Welch. The Art Walk is free.
Contact: Bill Maxey at 713-545-2909; bmaxey@mediadesigninc.com